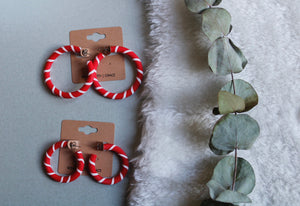 Wear With Grace Studio
CANDY CANE HOOP
Sale price Price $29.14 Regular price Unit price / per
Tax included.
Sweet but twisted CANDY CANE HOOP!

Bring a little festive sparkle to the classic sassy hoop earring, with these candy cane themed earrings.

"You can't convince me hoop earrings don't hold some kind of power. Want to conquer the world? Hoop earrings."

Available sizes -

small - circumference 11.5cm/4cm diameter.

Medium - circumference 16cm/5cm diameter.